Nonton Gonjiam: Haunted Asylum Subtitle Indonesia
Jika muncul tulisan video limit pada server 1 cukup "Klik disini" dan Log in menggunakan Gmail
Server 2 tunggu hitungan detik selesai kemudian play
0
(
0 votes, average: 0,00 out of 5
)
You need to be a registered member to rate this.
Loading...
Stream in HD
Download in HD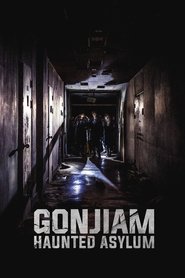 Gonjiam: Haunted Asylum
Pada tahun 1979, 42 pasien di Rumah Sakit Jiwa Gonjiam bunuh diri dan direktur rumah sakit hilang. Banyak rumor dan cerita aneh tentang Rumah Sakit Jiwa Gonjiam yang sekarang ditinggalkan. Seorang penyiar internet dan 6 orang lainnya memutuskan untuk memasuki rumah sakit yang ditinggalkan untuk mengalami ketakutan yang tak terkendali. Mereka mulai mengalirkan video langsung dari dalam rumah sakit.
Related
Facebook Comments
Duration:
Quality: HD
Release: 2018